The Classroom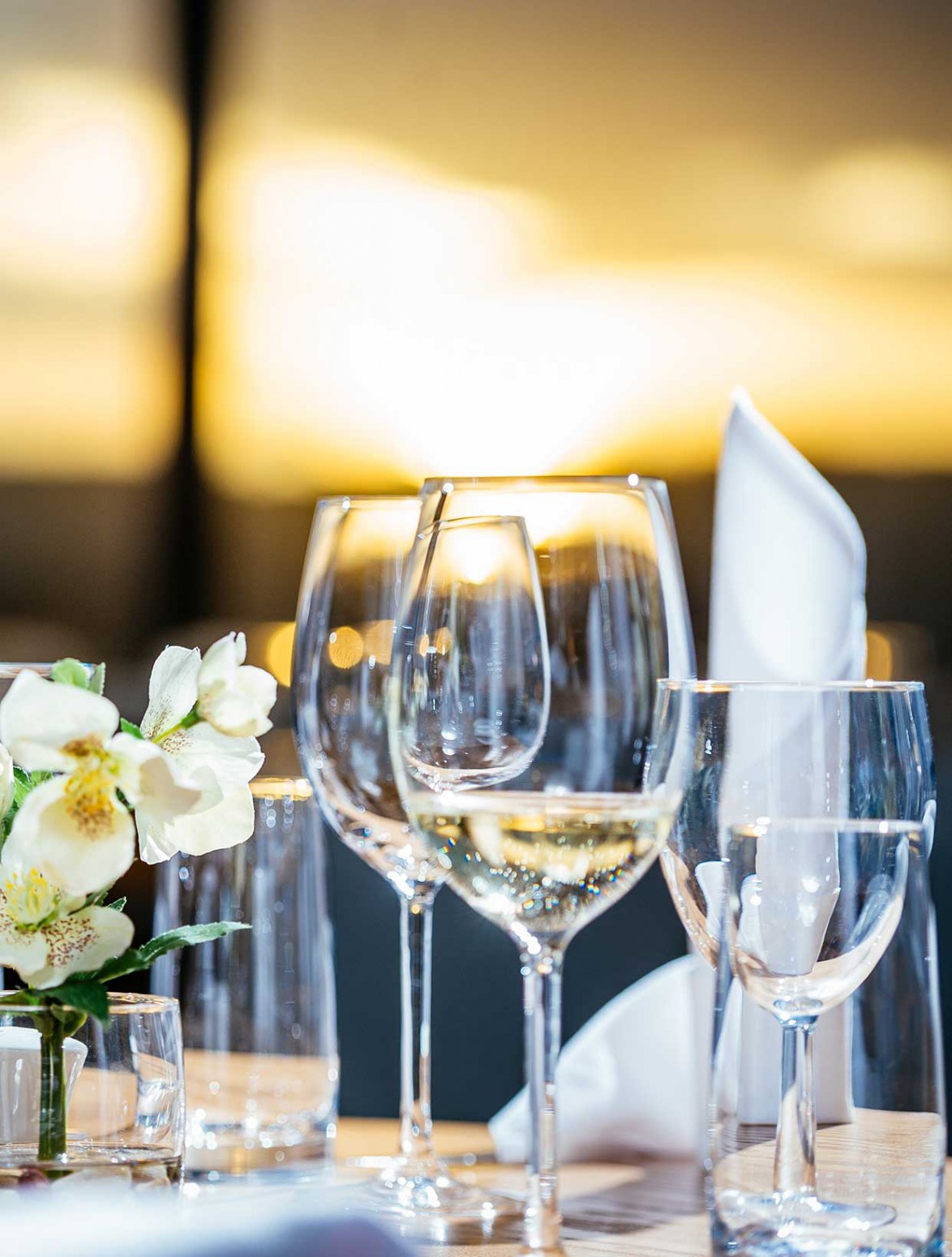 Enjoy stunning views of the Capital in The Classrooms contemporary setting
About
The classroom is a unique modern European restaurant with panoramic views across the capital city.
We are passionate about quality food and excellent customer service – ensuring your visit is one you want to repeat. Our menus change with the season – sourcing high quality ingredients with a focus on regional Welsh produce where possible. All dishes are prepared from scratch – including the bread freshly baked each day in our own in-house bakery. Our location provides a real wow factor – a floor to ceiling glass dining room on the top floor of Cardiff and Vale College's landmark £45m City Centre Campus with panoramic views across the capital from Cardiff Bay to the city centre. Central to everything we do is our vision and passion for developing future talent for the hospitality industry. Our team of industry professionals have a wealth of experience from Michelin Star and multiple AA Rosette awarded establishments. This expert team lead our restaurant day in, day out which is staffed by those honing their skills and experience to start their careers in the profession – all studying at Cardiff and Vale College. And it works – with our former students progressing into top professional kitchens and venues across the region, UK and beyond. We are also proud to work in partnership with a network of high-profile visiting professionals who share our passion for developing future talent. These chefs include James Sommerin and Larkin Cen who you can find running monthly masterclasses, guest chef takeovers and ensuring an exciting schedule of events for our customers at The Classroom.
Please note: Our Catering and Hospitality students work at The Classroom all year except during the summer break where The Classroom is staffed by trained professionals.
Thomas Bentkowski

Food & Beverage Manager

Thomas has over 20 years' experience in the industry and brings a wealth of expertise and professionalism to the restaurant. After gaining a degree in Hospitality Management in his home country of Poland, Thomas came to the UK to start his career. His career has seen him work in multi-award winning restaurants and hotels across the UK. This includes Jean Christophe Novelli's Auberge du Lac Restaurant in Hertfordshire (1 Michelin Star & 3 AA Rosettes); and managerial roles in the respected Lords of the Manor hotel in the Cotswolds (1 Michelin Star, 3 AA Rosettes & 4 Red Stars); The Samling in Windermere (1 Michelin Star & 3 AA Rosette) and in recent years more locally at respected venues Holm House in Penarth and as General Manager of the Park House, Cardiff. Thomas has a great wine knowledge developed through his career and this is reflected in The Classroom wine list and bar. Above all Thomas has a true passion for ensuring top quality customer service and instilling this in those starting their career as they work alongside him.
CAVC – Future Talent
Cardiff and Vale College has a reputation for training future talent for the
hospitality and catering industry – with former students going on to work in
top establishments – including 5 star hotels and Michelin and AA awarded
restaurants across the region, UK and beyond.
The College strives to do things differently – ensuring students not only
gain the qualifications for work within the industry but the skills and
experiences that employers want – helping them stand out from the crowd
to progress and succeed in their careers. The Classroom provides a top class
venue for students to work, develop their skills and be inspired.
Alongside our professional team, the kitchens and front of house of The
Classroom are staffed daily by CAVC hospitality and catering students –
the future talent for this region.
Hywel Jones

Lucknam Park

Hywel Jones is Executive Chef at The Park restaurant and The Brasserie at Lucknam Park Hotel & Spa.
Hywel started his career with David Nichols at The Royal Garden and then moved on to work as Chef de Partie in two Michelin 3-star establishments; Chez Nico at 90 and Marco Pierre White.  He then furthered his skills as junior Sous Chef at Michelin starred Le Soufflé.  From there he went on to earn his first Michelin star at Foliage restaurant at Mandarin Oriental Hyde Park where he was Head Chef for five years, prior to joining the Pharmacy Restaurant in Notting Hill as Executive Chef.  In 2004 Hywel joined Lucknam Park Hotel and Spa, and in 2006 was awarded a Michelin Star. Awarded Hotel Chef of the Year at the 2007 Hotel Catey Awards, Hywel has created superb menus in both the Michelin starred restaurant The Park and more recently in the stylish and contemporary dining experience of The Brasserie. Where possible, Hywel uses locally sourced ingredients including herbs from Lucknam Park's own extensive herb garden. He has built a personal relationship with his local suppliers ensuring high quality ingredients that are always reflective of the season. In November 2012, under the guidance of Hywel, the hotel opened a brand new Cookery School offering a wide range of courses for those who enjoy cooking. Courses are very diverse, ranging from Street Food of India to Great British Food, Seasonal Cookery, half day Children's courses and An Evening with Hywel, where Hywel will cook and talk whilst preparing a five course menu.

Don't miss Hywel Jones at The Classroom, 25th May 2018

James Sommerin

James Sommerin Penarth

The Classroom is privileged to have James as a regular visiting professional. James comes to the restaurant monthly – running masterclasses and guest chef takeovers. After a career working in renowned establishments across the UK James returned to Wales, where as head chef of 'The Crown at Whitebrook' he won his first Michelin star, retaining it for over 5 years until the establishment closed its doors. A regular face on TV, James is now Chef/ Patron of the award winning Restaurant James Sommerin in Penarth. James started his career straight from school and has a passion for inspiring others to do the same. James sits on the College's employer panel for the Hospitality industry – a forum for employers to work with the College to influence training, opportunities and ensure that the qualifications and skills students gain are what employers within the industry want.

Larkin Cen

Hokkei

The Classroom is delighted to benefit from Larkin's talent – working with the College to run guest chef takeovers and inspire students with his renowned modern Asian cooking and entrepreneurial attitude. Former lawyer Larkin became a finalist on BBC's MasterChef in 2013. Since then Larkin's career as a chef and entrepreneur has been unfounded. Now Director of the successful Hokkei – Larkin is a leading the way with his innovative new breed of naturally produced and responsibly sourced Asian food. Larkin also sits on the College's employer panel for the Hospitality industry – inspiring students and supporting future employable talent for the industry.

Massimo Bishop-Scotti

Zucchero Patisserie

One of the top Patisserie Chefs in the UK, Massimo heads up the renowned UK Contemporary Cake Design service Zucchero Patisserie. Born and bred in Capri, Massimo's love of good food started at a very early age – starting his first job at the age of 12 in the local patisserie shop. Leaving Italy at 17, Massimo came to London to train under the renowned Prof John Huber and started a career that saw him working in multiMichelin star restaurants and 5 star hotels including The Savoy, The Intercontinental and The Aubergine for Gordon Ramsey. Massimo has won multiple national Awards and designed cakes for Michelin restaurants, as well as bespoke cakes and desserts for Marks and Spencer and Harrods. Massimo visits The Classroom to share his expertise – running chocolate and patisserie masterclasses. This includes a range of exciting one-day masterclasses for our Cookery School where you can book to learn from the best for a day developing your skills including Macaron Making or Chocolate Work.

Anand George

Purple Poppadom

Multi-award winning Chef Anand George, from Kerala on the southern coast of India, has become one of the UK's most acclaimed chefs since breaking onto the Welsh restaurant scene in 2007. Renowned for his pioneering of Nouvelle Indian Cuisine at his famed Purple Poppadom restaurant in Cardiff, Chef George is a constantly innovative presence on the food scene, exemplified by his successful move into street food in 2015. Chef Anand George's debut book titled 'The 5,000 Mile Journey' describes his culinary influences spanning his career from India to Cardiff via London and includes over 60 inspired recipes.
A winner of South Asian Chef of the Year, Chef George steered his first establishment in Wales to be included in the National Restaurant Awards' UK's Top 100 restaurants. The restaurant has also achieved a debut entry in The Good Food Guide and the Michelin Guide, both of which Purple Poppadom is listed again in 2016. Anand was a huge hit at Chefs' Night Out 2010 in support of Tŷ Hafan, where two guests each bid £15,000 for Anand to cook at their homes, raising £30,000 for Tŷ Hafan. The resulting 'World's Most Expensive Curry' headlines even made the national six o'clock news. The Cardiff eatery was also a finalist in the Observer Food Monthly awards in 2014 and 2015 for Best Restaurant with a glowing review from Jay Rayner and a recommendation by Tom Parker Bowles.
Don't miss Anand George at The Classroom – 13 October 2016

Roger Jones

The Harrow at Little Bedwyn

With over 40 years in the hospitality business, Roger is a respected Michelin Star Chef, and together with his wife Sue, he owns the highly acclaimed restaurant; The Harrow at Little Bedwyn, based in Wiltshire, where he has held a Michelin Star for the last 11 years. Roger has been involved in training with numerous UK colleges and schools including Westminster and works with numerous Charities in Wales including; Ty Hafan, Chefs Night Out, NSPCC Wales, Ryan Jones's Testimonial Year in aid of Welsh Guards injured in Afghanistan and Scope. The restaurant is equally respected for its 1,000 bin Wine List, and has achieved numerous National and Global Awards for their wine list, including The AA Wine List of The Year, The Decanter Wine List of The Year, World of Wine; The World's Best Wine List Top Three Star and Judges Award, The Wine Spectator Best of Award of Excellence.
The Classroom
The Classroom is a unique restaurant open for lunch, dinner and special events.
Lunch
Tuesday – Sat 12:00 till 2:00 / Also available for private hire & special events
Dinner
Tuesday – Sat 6:00 till 9:00 / Also available for private hire & special events
Make A Reservation