The Classroom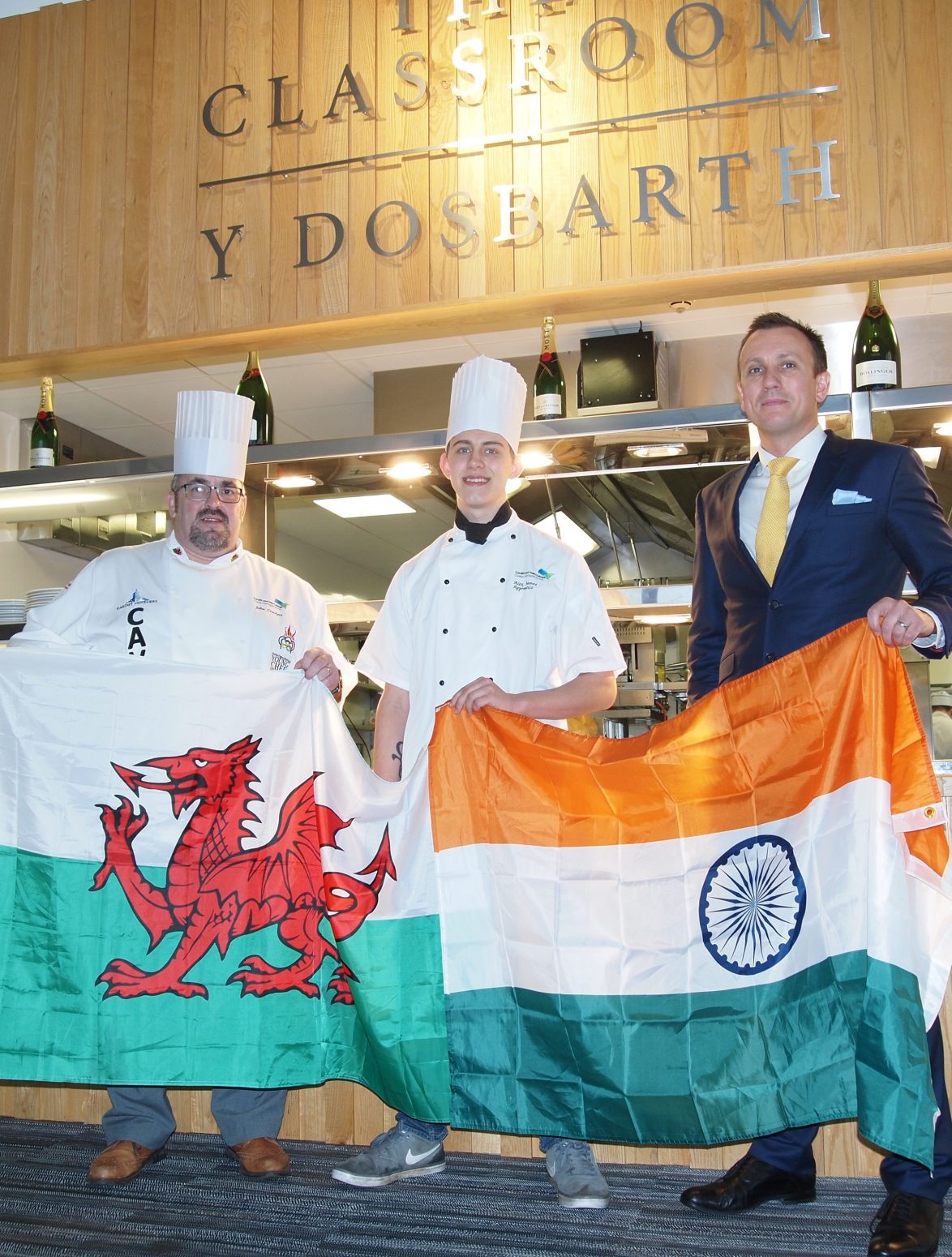 Cardiff and Vale College apprentice Alex is off to India to represent Wales at the Young Chef Olympiad 2018
Alex James, an apprentice at Cardiff and Vale College, is set to jet off to India to represent Wales in a prestigious international competition for young chefs – the International Young Chef Olympiad 2018.
Following an internal competition among the College's Hospitality and Catering learners Alex – who is an apprentice in CAVC's modern European restaurant The Classroom – was chosen. The students each had to come up with a three course meal using a special basket of ingredients.
Alex, who is 18 and from Cardiff, will be joined by CAVC Chef Lecturer John Crockett who will act as mentor when they fly out in the New Year. He will be sponsored by the Cardiff Hoteliers' Association, who also sponsored CAVC student Amy Hoskins when she represented Wales at the International Young Chef Olympiad at the beginning of 2017.
"I feel really privileged to be going out to India to compete in the Young Chef Olympiad," Alex said. "It's going to be amazing – a fantastic experience.
"I'm really looking forward to it. It is a little bit nerve wracking but I've been trying not to think about that side of it too much to keep the pressure off!"
CAVC Deputy Head of Catering, Hospitality and Food Manufacturing Eric Couturier said: "This represents a life-changing opportunity for Alex. He will be demonstrating his skills, creativity and flair among some of the best young chefs from all over the world which will be a fantastic experience for him – we are all very proud of Alex and wish him the very best of luck."
Ben Underwood, Chair of the Cardiff Hoteliers' Association, said: "My colleagues and I at the Cardiff Hoteliers' Association are pleased and proud to support CAVC in sending a young chef to Olympiad event in India. Recruiting chefs is difficult throughout the industry and nowhere more so than in Cardiff. So the fact that our young, aspiring chefs have such a wonderful facility to learn their trade such as The Classroom fills us all with hope that the next generation of hospitality professionals will be a strong one.
"Having met Alex I was impressed with his demeanour and focus, he strikes me as someone who's clear about his goals and aspirations and I'm sure he'll do a fantastic job of representing Wales."
The Apprenticeship Programme is funded by the Welsh Government with support from the European Social Fund.
The Classroom
The Classroom is a unique restaurant open for lunch, dinner and special events.
Lunch
Tuesday to Saturday 12 noon till 2pm (term time only)
Dinner
Thursday to Saturday 6pm till 9pm last order (term time only)
Make A Reservation